Receipt Bot makes accounting and bookkeeping super easy, saving your time and money. You can collate bills, receipts, invoices and bank statements using Receipt Bot mobile or web app. Receipt Bot extracts data with highest accuracy, assigns accounting categories and updates your cloud accounting software, such as Xero and Quickbooks Online.
Receipt Bot is an AI (Artificial Intelligence) driven bookkeeping app that automates the monotonous, paper consuming tasks by doing the data entry itself. It collects your receipts, bills, invoices, and bank and card statements, scans with 99.9% accuracy, extracts relevant data and exports to the cloud accounting system like Xero and QuickBooks or even to excel. Further, it categorizes the data and sequentially maintains for recordkeeping.
Setting up Receipt Bot:
How does it work?
Go to receipt-bot.com and click Sign up,you will be required to enter your e-mail address, password and confirm password.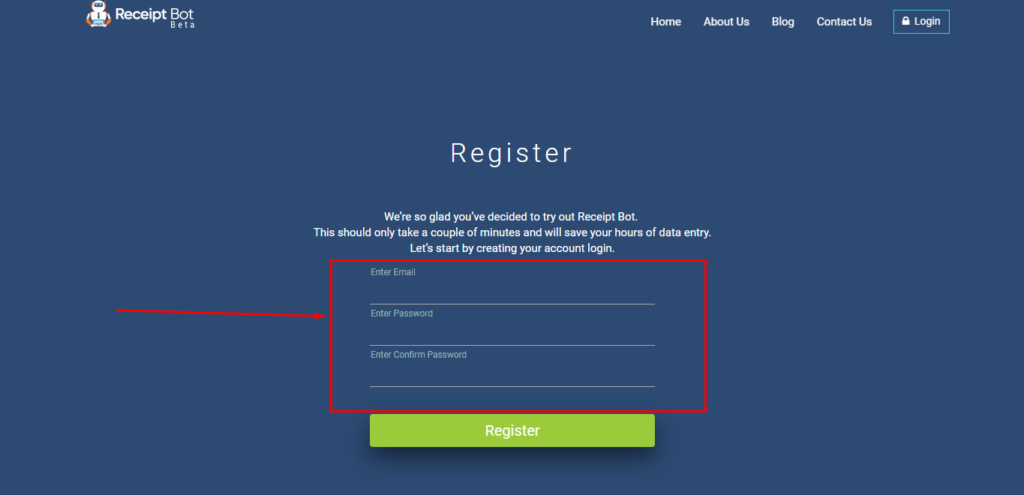 Receipt Bot will ask you to confirm your account by sending a verification e-mail along with activation link at your e-mail address.
On successful confirmation, you are all set to add your organization's further information by providing your business sector, entity type, phone number, and city.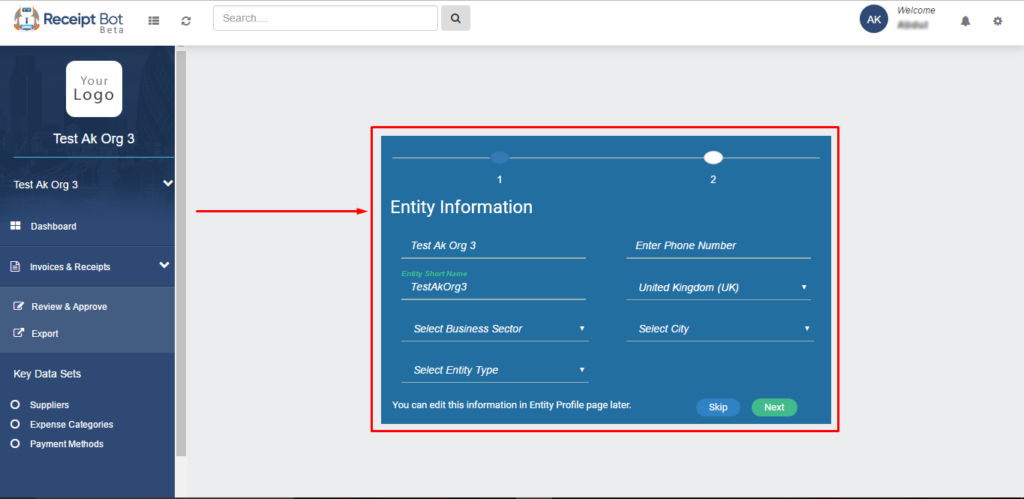 By clicking next, it will take you to entity wizard screen 2, where you need to provide VAT details such as whether your organization is VAT registered? If 'Yes', then the VAT number, VAT scheme and VAT period.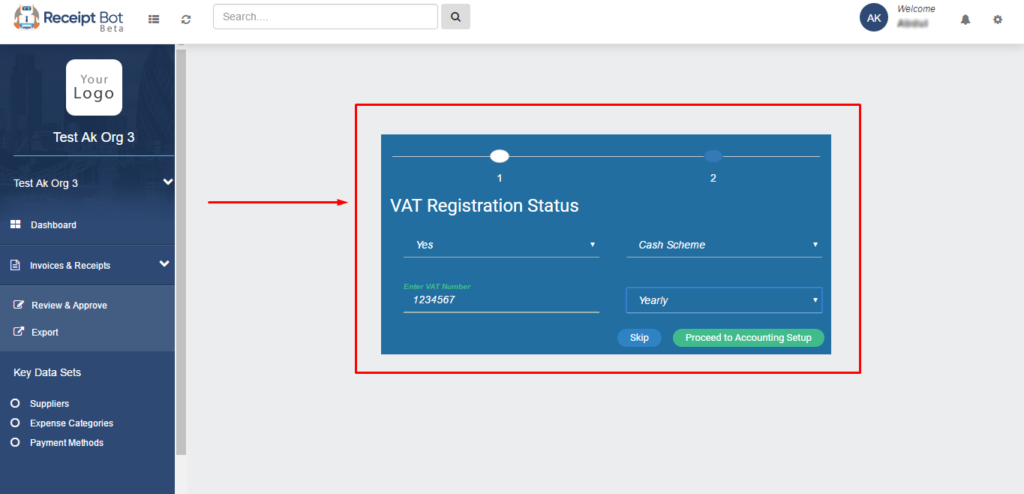 If you are not VAT registered you can skip this step by clicking "Skip" button. Selecting the correct VAT status is very important for accurate bookkeeping.
Now you are on Key Data Sets screen, your books are ready for set up. You can now select your Accounting software if you are Xero or QuickBooks Online user. This will make sure all your key information is synced and pulled from Accounting Software and the two systems are well aligned and there are no mismatches.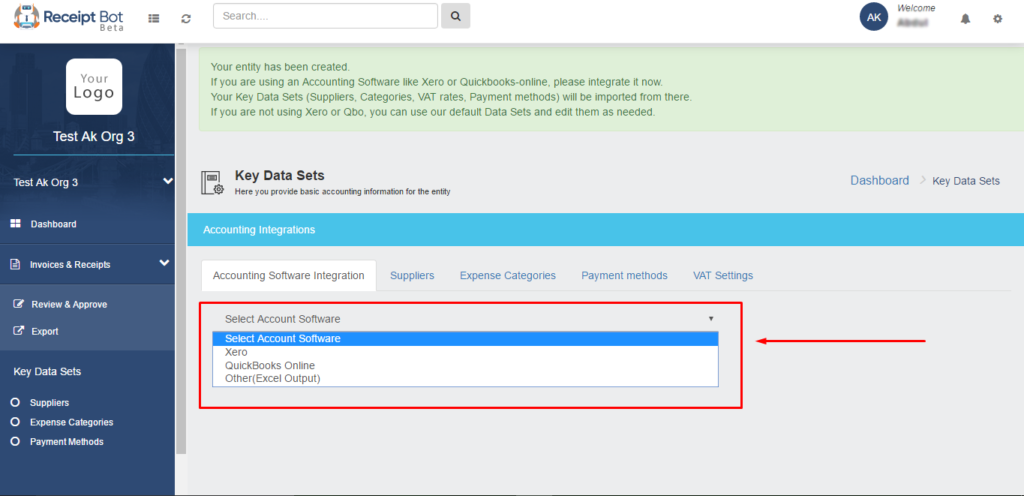 To integrate your system with Xero/Qbo, please review this complete guide here.
If you are not using Xero or QuickBooks, no worries, Receipt-Bot itself offers reasonable reporting to keep you on the top of your expenses.
Creating Suppliers:
On suppliers tab you can add suppliers; by clicking on "Add Supplier" button and entering the suppliers details. Once you have entered the details and clicked save you can view your supplier on this screen.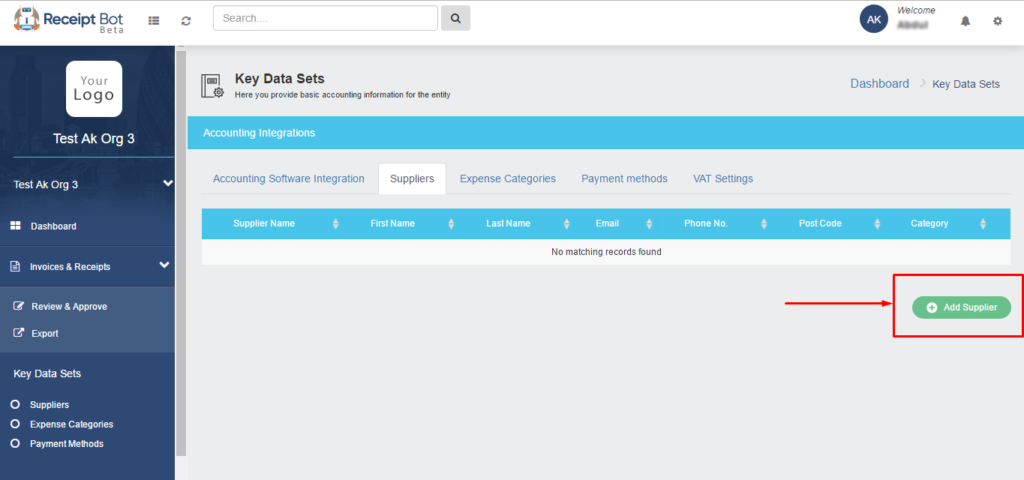 Receipt-Bot has standard expense categories in your account by default. But still if you wish to create any new expense category.
To create new expense category, click "Expense categories" on Key Data Sets, type the name of expense category on the field and then click the "Add Category" button.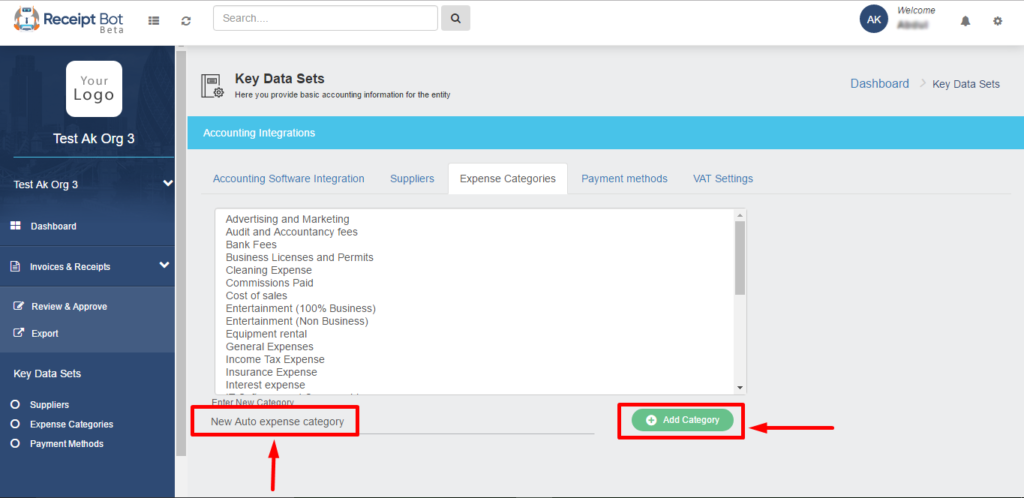 Receipt-Bot allows you to create your payment method. Click Payment methods on Key Data Sets and select the payment method you need to create, add details of the payment and then click "Add" button. This will create your payment method.